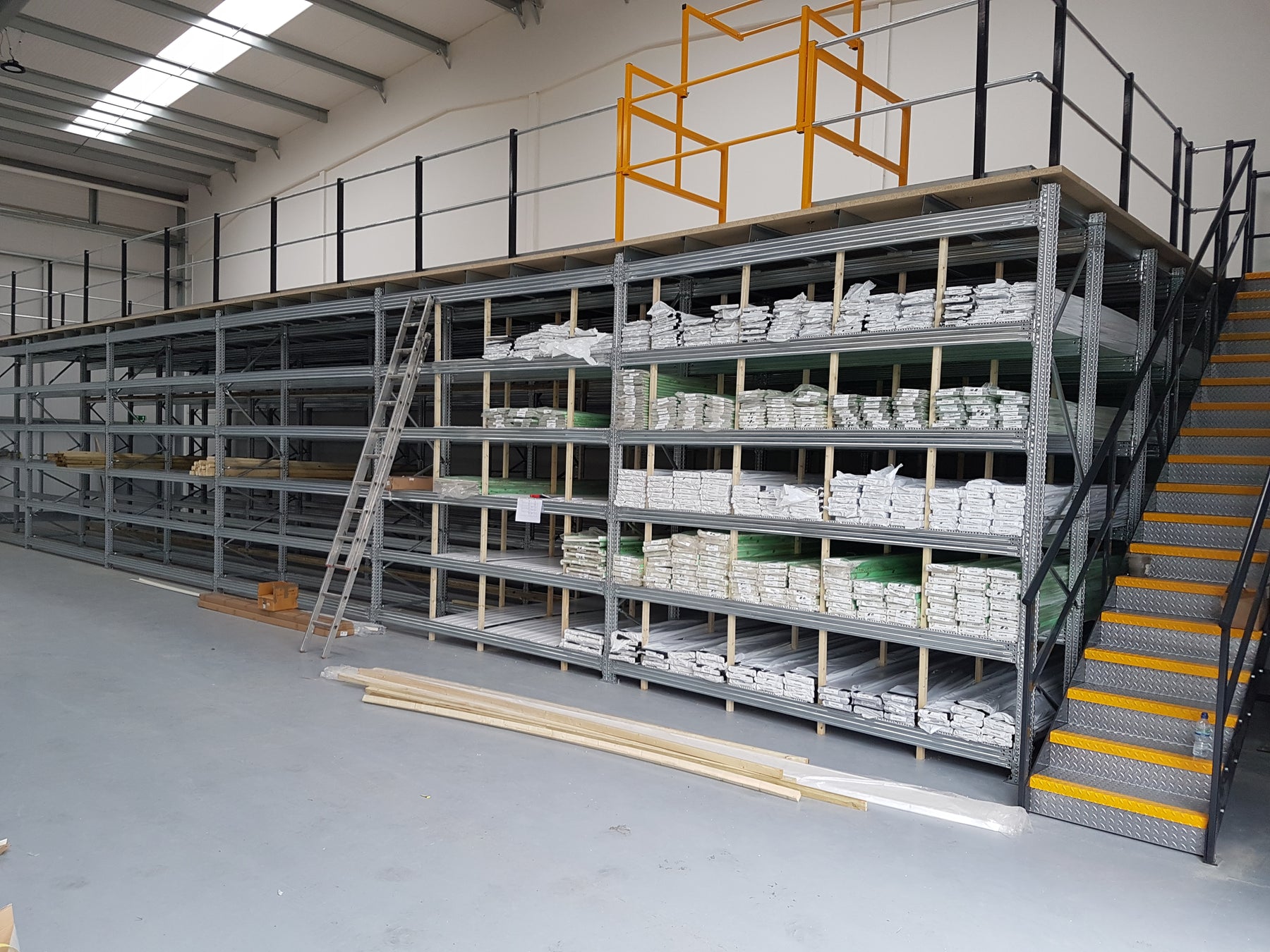 Expansion is now a vertical game
According to Paul Taylor, Managing Director of Yorkshire-based racking company Filstorage, builders' merchants wanting to expand need to look to the heavens.
No, he's not suggesting they seek divine inspiration – although after years of recession, Brexit, and now COVID to contend with, some might be tempted to do so – but more that with the dearth of warehousing space currently available in the UK, expansion has now become a vertical game.
"There's never been such a shortage of warehouse space," Paul said.
"If merchants want to expand, they have to look up, not out. The challenge now is not finding a new site – they're like hen's teeth – it is optimising the space you already have to drive the business forward."
Huge demand for racking
The situation has prompted a huge demand for new racking systems which reach higher and open up the top third of a warehouse to store more product. Flexibility is the name of the game too, with racking systems needing to be quick to assemble and take down, to facilitate new configurations as product ranges evolve.
One such system that was launched by Filstorage at the recent NMBS Exhibition is Master Racking.
Master Racking was the first system to be developed by Italian company GS Scaffalature, but this new version comes with one small but very important upgrade – it if fully galvanised.
This may sound fairly insignificant, but it combines two major benefits that can help merchant optimise space, Paul said. It is a nuts and bolt system that can be put up, taken down and repaired ultra-quickly, and it can be used outdoors.
"This makes it perfect for modern merchants who are learning the lessons of mainstream retailers when it comes to space efficiency and storage," he said.
"Like all businesses, merchants have seen their fair share of pain over the past decade or so, starting with the 2008/09 recession, then Brexit, and now COVID. Those that have negotiated that have had to modernise, learn lessons from other sectors, and find efficiencies in how they operate.
"Now the challenge is to find efficiencies in space to keep the growth curve moving in the right direction."
Flexible racking systems are a major factor in achieving that, he added.
"Master Racking has always been a great product but previously, only the frame was galvanised, not the beams. This meant it couldn't be used outdoors.
"But the new system that we launched at NMBS is fully galvanised. So, you get all the flexibility of a bolt together system – the speed of assembly, the ability to take it down and change the configuration if you need to alter the layout of your warehouse, and the easy of repair. Plus, you now have a system that will endure everything the weather has to throw at it.
"Fully galvanising Master Racking seems on paper to be a fairly minor change, but it has made a major difference to the merchants using it."
Mezzanine flooring
Another area that has come to the fore in the fight to discover new space is mezzanine flooring.
Very often, the vertical dimension of a warehouse or showroom is hugely underutilised, meaning the creating new flooring space is an extremely cost-effective way of increasing overall square footage.
Uses can range from general storage to classy bathroom and kitchen displays and can be added as part of the showroom or built in the warehouse.
Bathroom and kitchen showrooms create their own ambiance away from the cut and thrust of the trade counter and allow consultants to work in a calmer environment with their clients.
Mike Gorman, Sales Director for Filstorage said: "We've found mezzanine floors have become very popular for merchants looking to create showrooms but have limited space. They provide a different environment and the opportunity for a lucrative diversification into the consumer market."
Mike added that he has also seen a huge rise in demand for mezzanine floors built over pigeonhole storage for timber and UVPC, as this is an extremely efficient use of space, and a very cost-effective solution.
Cost savings
One thing Mike points out is that whereas moving to a new site is likely to give a merchant all the space they need – if they can find one – finding smaller increases in square footage via upgrading internal and external fittings is a far more cost-effective route to take.
"Even if you can find a new place, moving is a huge cost and extremely disruptive," he said.
"If you can successfully meet your growth plans with a more modest increase in capacity, then upgrading to more flexible racking and installing a mezzanine floor can produce the results you need with far less outlay.
"It is definitely worth looking into before taking the ultimate plunge."
Filstorage is the main UK distributor for Master Racking and GS's other main line, Variant, and holds more than £250,000 of pallet racking on stock, meaning lead times are low.
The business provides SEMA-qualified racking installations teams and is one of only 27 companies in the UK to hold the prestigious SDG accreditation.