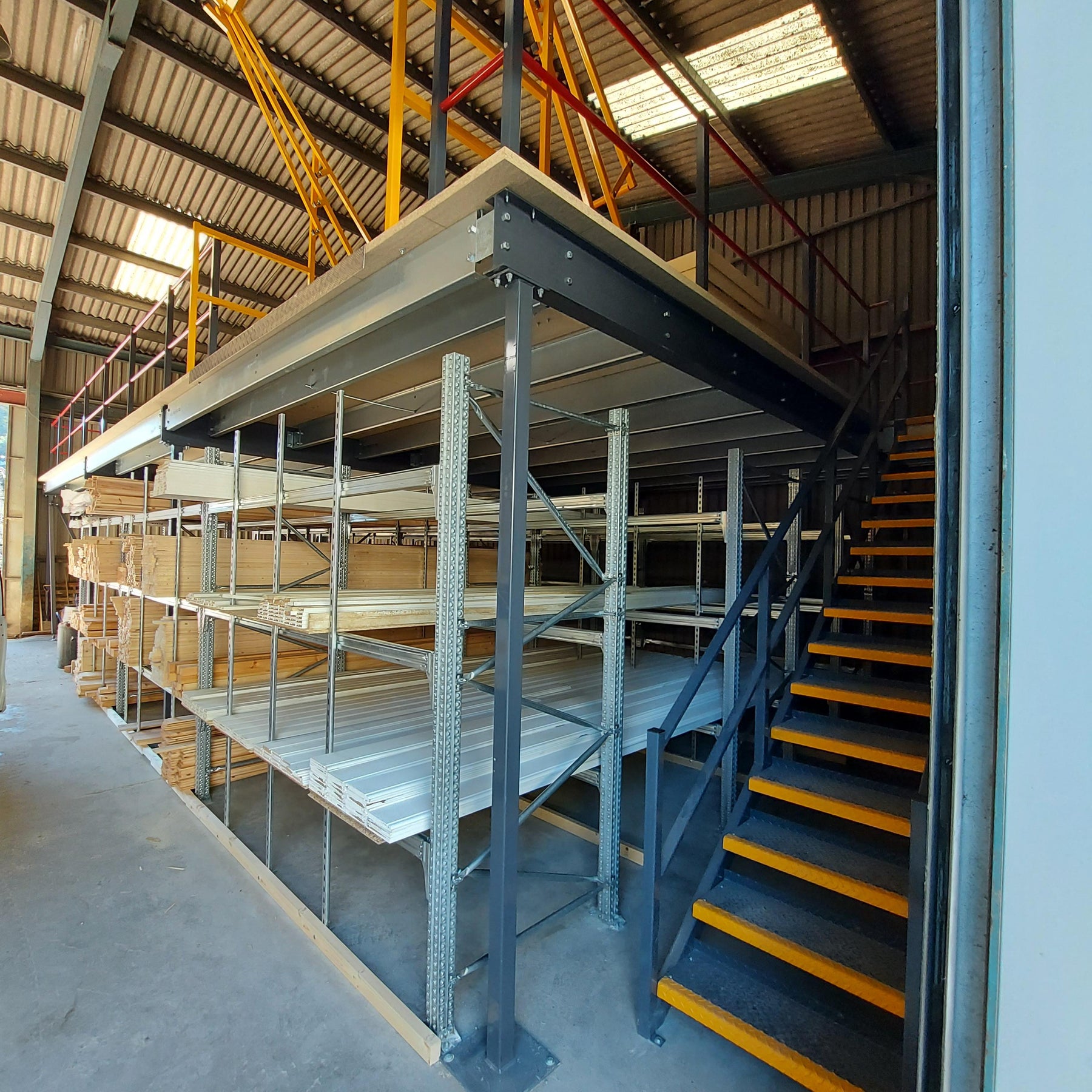 Filstorage help Fielden Factors expand their storage capabilities
Filstorage has helped Fielden Factors with their requirement to expand the storage capabilities at their Todmorden branch with the design, supply and installation of a rack supported mezzanine floor in the warehouse and cantilever racking in the yard.
Fielden Factors is a local independent builders' merchant providing quality building products and materials for over 40 years, and is a leading supplier of sustainable timber in the North West with their three branches in Rossendale, Todmorden and Wigan.
After highlighting the requirement for additional space to store insulation and timber at their Todmorden branch, Fielden Factors approached Filstorage to help optimise their current facility.
After utilising our free design and layout service, Gary Winter, (Business Development Manager) visited the site 3 times to scope the works accurately, and after a couple of re draws, we managed to find a solution that would fit Fielden Factors bespoke requirements.
The agreed solution was for Filstorage to design, supply and install a new mezzanine floor with a pallet gate for additional storage, whilst integrating a pigeon hole rack underneath to maximise overall storage. Pigeon Hole Rack supported Mezzanine Floors have become an increasingly popular solution for merchants' looking to maximise the capacity of their current warehousing space. The floor above the racking provides replaces the floor space lost due to the racking and is a great way of exploiting your warehouses capabilities to their absolute maximum.
There was also a requirement to provide storage for CLS timber in the yard which was met with the provision of galvanised Cantilver Racking which can help prevent sagging as well as allowing easy access for forklift trucks. Finally, we also provided pipe stillages to help organise and contain pipes in the yard.
Gary Winter, Business Development Manager for Filstorage commented "After a number of visits to site and a couple of re draws over a period of 6 months, we managed to work closely with the team at Fielden Factors to ensure that their specific requirements would be met.
"It is essential that when the installation is underway that there is as little disruption as possible for the client, especially since they still need to continue their operations and supply their customers as normal. We ensured that this was the case by creating a clear path of communication and teamwork, and I'm pleased to say everything went to plan.
"I'm a pleased we were able to help Fielden Factors with the investment in their Todmorden branch and improve their storage requirements. I would like to thank them for choosing Filstorage for undertaking the work. I wish them all the best for the future"
 Pictured: Rack supported Mezzanine Floor
Pictured: Cantilever Racking