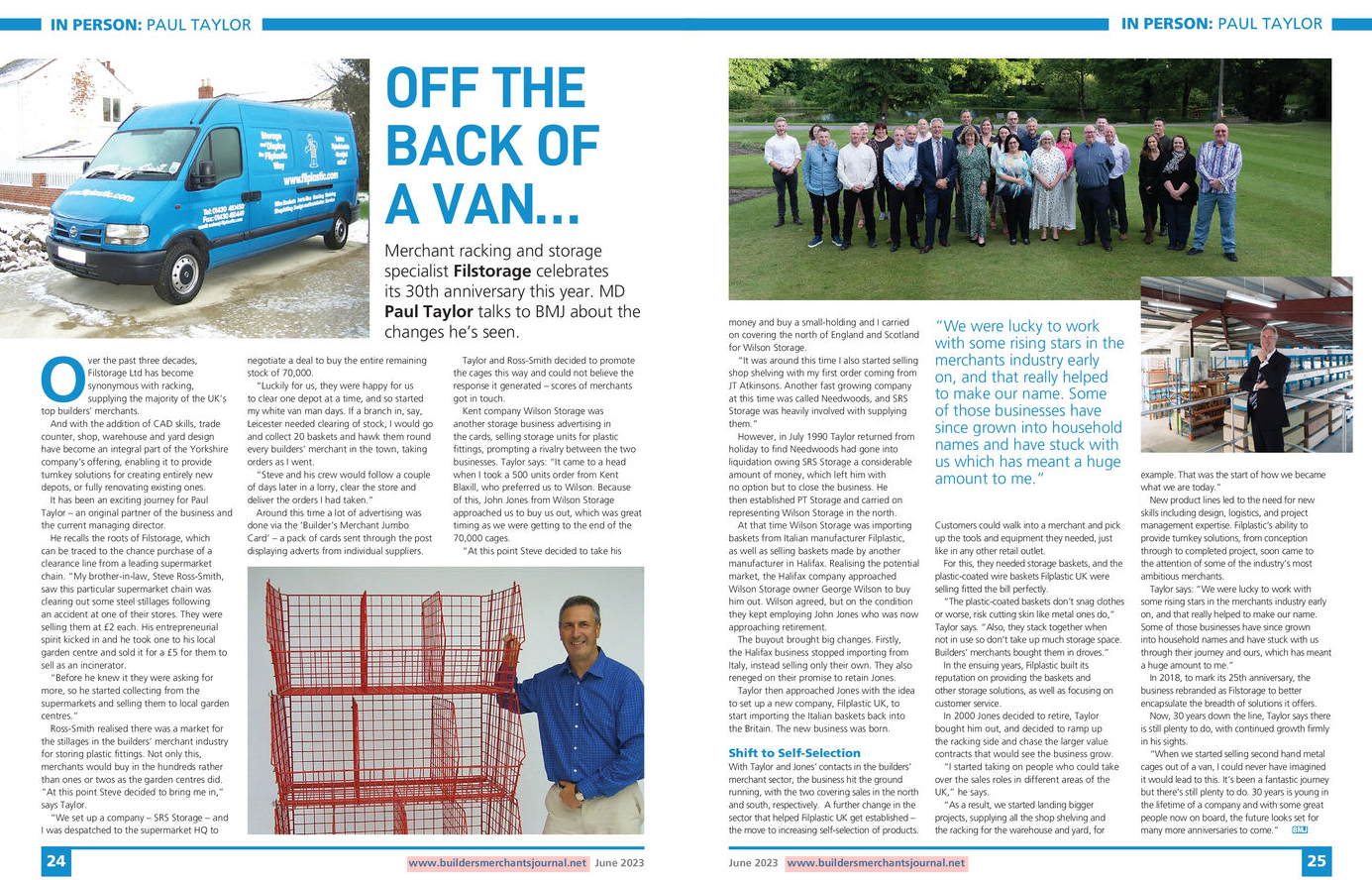 From Selling from the back of a van to well-known racking supplier – Filstorage marks its 30th anniversary
As featured in Builders Merchant Journal June 2023 (p24-25) 
Over the past three decades, Filstorage Ltd has become synonymous with racking, supplying the majority of the UK's top builders' merchants.
And with the addition of CAD skills, trade counter, shop, warehouse and yard design have become an integral part of the Yorkshire company's offering, enabling it to provide turnkey solutions for creating entirely new depots, or fully renovating existing ones.
It has been an exciting journey for Paul Taylor – an original partner of the business and the current managing director.
Reflecting on the journey, Paul recalls the roots of Filstorage, which can be traced to the chance purchase of a clearance line from a leading supermarket chain.
Paul said: "My brother-in-law, Steve Ross-Smith, saw this particular supermarket chain was clearing out some steel stillages following an accident at one of their stores. They were selling them at £2 each. His entrepreneurial spirit kicked in and he took one to his local garden centre and sold it for a £5 for them to sell as an incinerator.
"Before he knew it they were asking for more, so he started collecting from the supermarkets and selling them to local garden centres."
Although the launch of Filstorage was a long way off at this point, Steve's next entrepreneurial move would play a large part in setting the future course of Paul's career. He realised there was a market for the stillages in the builders' merchant industry, for storing plastic fittings. Not only this, merchants were would buy in the hundreds rather than ones or twos as the garden centres did.
"At this point Steve decided to bring me in," said Paul.
"We set up a company – SRS Storage – and I was despatched to the supermarket HQ to negotiate a deal to buy the entire remaining stock of 70,000.
"Luckily for us, they were happy for us to clear one depot at a time, and so started my white van man days. If a branch in, say, Leicester needed clearing of stock I would go and collect 20 baskets and hawk them round every builders' merchant in the town, taking orders as I went.
"Steve and his crew would follow a couple of days later in a lorry, clear the store and deliver the orders I had taken."
Around this time a lot of advertising was done via the 'Builder's Merchant Jumbo Card' – a pack of cards sent through the post displaying adverts from individual suppliers.
Paul and Steve decided to promote the cages this way and could not believe the response it generated – scores of merchants got in touch.
But SRS wasn't the only storage business advertising in the cards.
Kent company Wilson Storage also featured, selling storage units for plastic fittings, prompting a rivalry between the two businesses.
Paul said: "It came to a head when I took a 500 units order from Kent-Blaxhill, who preferred us to Wilson. Because of this, John Jones from Wilson Storage approached us buy us out, which was great timing as we were getting to the end of the 70,000 cages.
"At this point Steve decided to take his money and buy a small-holding and I carried on covering the north of England and Scotland for Wilson Storage.
"It was around this time I also started selling shop shelving, with my first order coming from JT Atkinsons. Another fast growing company at this time was called Needwoods and SRS Storage was heavily involved with supplying them."
However, bad news was to strike in July 1990. Paul returned from holiday to find Needwoods had gone into liquidation owing SRS Storage a considerable amount of money. Sadly, he was left with no option but to close the business.
But not one to be down for long, Paul quickly established PT Storage and carried on representing Wilson Storage in the north.
At the time, Wilson Storage was importing baskets from Italian manufacturer Filplastic, as well as selling baskets made by another manufacturer in Halifax. Realising the potential market, the Halifax company approach Wilson Storage owner George Wilson to buy him out. George agreed, but on the condition they kept employing John Jones who was now approaching retirement.
The buyout brought big changes. Firstly, the Halifax business stopped importing the baskets from Italy, instead selling only their own. They also reneged on their promise to retain John Jones.
That was enough for Paul, who decided he no longer wanted to work with the business. Instead, he approached John Jones with the idea to set up a new company, Filplastic UK, to start importing the Italian baskets back into the Britain.
Recognising the opportunity, the Italian manufacturer agreed to supply them, and the new business was born.
Shift to Self-Selection
With Paul's and John's contacts in the builders' merchant sector, the business hit the ground running.
Paul covered the north and John the south, and between them, orders came pouring in.
But there was another change in the sector that also helped Filplastic UK get established – self-selection. Customers could walk into a merchant and pick up the tools and equipment they needed, just like in any other retail outlet.
For this, they needed storage baskets, and the plastic-coated wire baskets Filplastic UK were selling fitted the bill perfectly.
"The plastic-coated baskets don't snag clothes or worse, risk cutting skin like metal ones do," Paul said.
"Also, they stack together when not in use so don't take up much storage space. Builders' merchants bought them in droves."
In the ensuing years, Filplastic built its reputation on providing the baskets and other storage solutions, as well as focusing on customer service.
However, in 2000 came the next big change when John Jones decided to retire, leaving Paul with no option but to buy him out.
It was then Paul decided to ramp up the racking side, and chase the larger value contracts that would see the business grow.
"I started taking on staff – people who could take over the sales roles in different areas of the UK," he said.
"As a result, we started landing bigger projects, supplying all the shop shelving and the racking for the warehouse and yard, for example. That was the start of how we became what we are today."
New product lines led to the need for new skills including design, logistics, and project management expertise. Filplastic's ability to provide turnkey solutions, from conception through to completed project, soon came to the attention of some of the industry's most ambitious merchants.
Paul said: "We were lucky to work with some rising stars in the merchants industry early on, and that really helped to make our name. Some of those businesses have since grown into household names and have stuck with us through their journey and ours, which has meant a huge amount to me."
In 2018, to mark its 25th anniversary, the business rebranded as Filstorage to better encapsulate the breadth of solutions it offers.
Now, 30 years down the line, Paul said there is still plenty to do, with continued growth firmly in his sights.
"When we started selling second hand metal cages out of a van, I could never have imagined it would lead to this," he said.
"It's been a fantastic journey but there's still plenty to do. 30 years is young in the lifetime of a company and with some great people now on board, the future looks set for many more anniversaries to come."