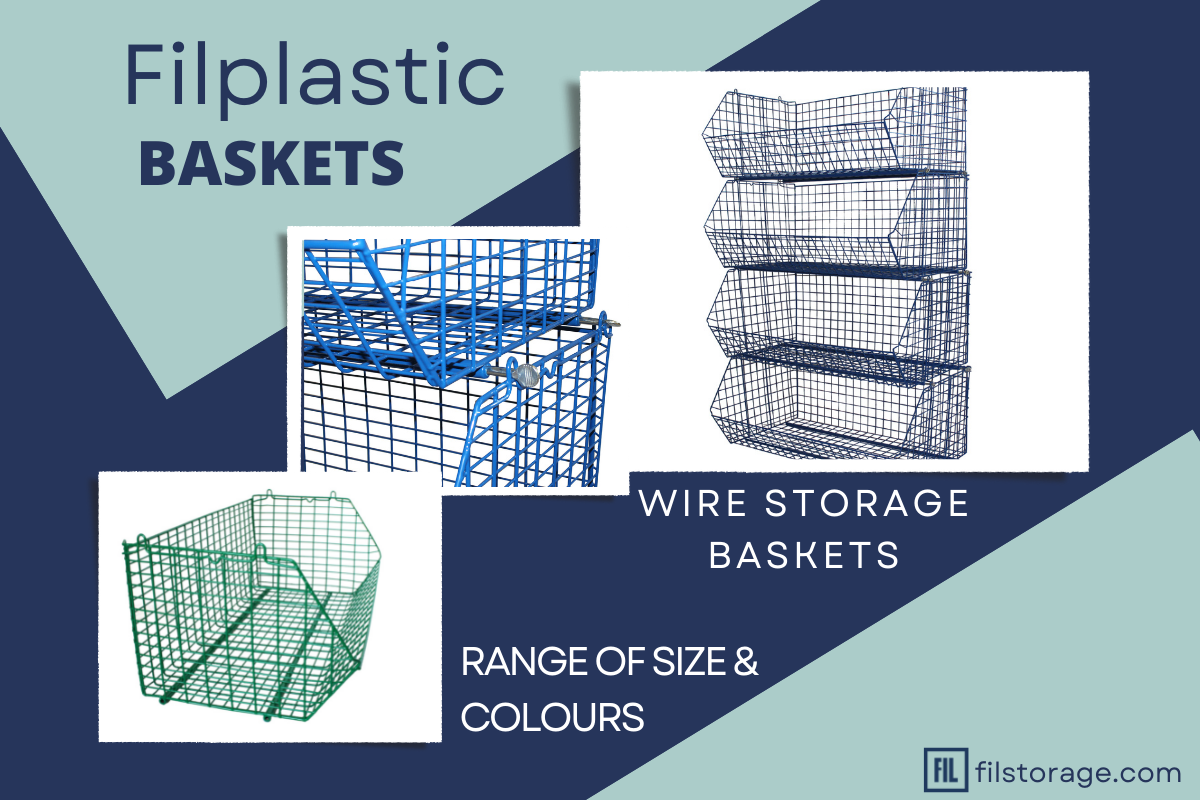 The Ultimate Guide to Wire Storage Baskets
If you're looking for wire storage baskets, then your probably at the right place. Filstorage is the UK's leading supplier of wire storage baskets aka Filplastic Baskets, with thousands in stock.
Wire Storage Baskets are a versatile storage and display solution, and we've seen this used for just about every possible use including clothing companies, general warehouse storage, builders' merchants, schools, sports clubs, van and workshop storage, retail outlets and even niche use such as log storage etc.  
The range
There are 4 main size options to choose from within our wire storage range. These are:
MT8 – our smallest basket size. Individually these are 600mm wide x 460mm deep x 350mm high.
C12 – These are the same height and depth as the MT8 but are wider. Individually these are 980mm wide x 460mm deep x 350mm high.
C2DS – Our most popular sized basket. Individually these are 980mm wide x 680mm deep x 480mm high.
C4 – Our largest basket, the C4 basket is perfect size to sit under pallet racking - 2 wide and 2 high (dependant on the height level of your bottom shelf). Individually these are 1220mm wide x 680mm deep x 480mm high.
Size is the key difference between the different ranges
Although still large, the MT8 and C12 are our smaller variants, offering an option where less height and depth might be required. In comparison, the C2DS and C4 baskets offer an extra deep and tall solution, giving you a variety of options to choose from.
 View here > https://filstorage.com/collections/wire-storage-baskets 
Colour Options
There are 3 colour options to choose from for each basket size. These are:
Useful accessories designed to enhance your needs  
We also offer a range of accessories designed exclusively for our wire storage baskets. These include:
Dividers – There are 2 divider sizes. One which will fit the MT8 and C12 Baskets and another that will fit the C2DS and C4 baskets. Both are available in all 3 colour options.
The dividers can used to create separate compartments, with more dividers used per basket to create smaller compartments. The dividers simply slot into place and can be removed easily if required.
Wheel Sets – We offer wheel sets for all our models so that you can turn your wire baskets into a mobile unit. This allows for easy transportation whilst moving the baskets into different areas.
Labelling – We provide a range of different label tags so that you can easily label and identify the contents within your storage baskets if required.
Stands & Lids - The stands allow you to keep your baskets from making direct contact with the ground below, whilst our lid options allow you to store items on top of your basket.
Why should we use Filplastic Wire Storage Baskets? What are the benefits?
You're probably reading this because you're in need of a storage or display solution. Optimising your space can maximise capacity and increase time efficiency, therefore valuable solutions can save/create money.
The wire storage basket range is a low-cost / low-tech solution. That's not to say technology can't be effectively integrated (e.g. epos strips can be barcoded and used with scanners), but no technological knowledge and investment is needed to get a wire basket up and running! Sometimes, there's no need to overcomplicate a simple process/solution.
The benefits of the baskets include:
Durable – We've been selling Filplastic Baskets for 3 decades, and we still see customers using baskets from 20+ years ago in good condition. These are built to last whilst the plastic coating helps prevent snagging and rust.
Heavy Duty - Don't mistake these for flimsy modular plastic baskets that can't hold as much as a few footballs. Our Filplastic Baskets weight capacity ranges from 60kg to 120kg – that's why these have been popular in industrial environments such as Builders' Merchants and General Warehousing.
Stackable – Provided with thumbscrew bolts, the baskets can be simply secured together to create a unit that works for you. Whilst you can stack these as high as you want, we'd always recommend securing these to a wall when you stack 3 (MT8 & C12) or 4 (C2DS & C4) for general safety reasons.
Buy individually or as a bundle – Make the baskets work to your needs. Buy one or two or buy a large bundle dependent on what you need to store and display. We keep huge stocks, so you can always add later.
Front Lip Design – This prevents items from falling out and makes awkward items easier to store as opposed to shelving, which can be very quickly overloaded.
Exclusive Accessories – With a range of accessories, you can transform your baskets. Whether using dividers to create compartments or a wheel set to create a mobile unit, the accessories have all been designed exclusively for our Filplastic Baskets.
Labelling is easy - Our selection of labels are designed to easily attach to the baskets. Add your own stickers or barcodes to suit your identification system.
Need help with maximising your space? - Our team are here to help. Whether you have a few questions that you need to ask over the phone, or whether you need your warehouse measuring up and the baskets installing, we can help. We have a regional account manager team who can provide site visits if required and help you advise of the best options for you. View more here
How are our Wire Storage Baskets used?
The primary usage for wire storage baskets is for storage and display purposes. As initially mentioned in the second paragraph, we supply a wide range of industries, businesses and individuals with Filplastic Baskets. Some of the primary purposes we've seen are:
Builders Merchants – both in the shop and warehouse
Clothing Industry - pick, pack & dispatch as well as order returns (mobile units are increasingly popular here)
General Warehousing
Manufacturing
Store Rooms
Van & Workshop Storage
Schools, Sports Clubs and Community centres
Retail, Food banks and general leisure
Individuals for general or niche storage (we've even had a customer use a wire basket as a dog bed)
Hundreds of other uses!! These are a versatile unit perfect for storing larger and awkward items!
If you require any further information then email us sales@filstorage.com / call 01430 410 450 and we'll get back to you asap. Alternatively, you can buy these direct online here or email/call us to purchase.