Vertical Racking
For the storage of timber lengths and plastic pipes
Vertical Racking
We are experts at designing and installing multiple storage solutions using our years of experience to create the ideal solution for your business. Our vertical racking solutions are ideal for storing any long or tall materials safely and easily.
The standard finish of the racking is painted (with a range of colours to choose from) although galvanised racking can be supplied for outside use.
Whether you're looking to fit out a small storage space or a full warehouse we have multiple storage options and can create a customised solution for your business. Why not get in touch with our sales team to discuss your needs by completing the online form or give us a call on 01430 410 450.
Vertical Racking Sizings
We supply both single-sided (1.2m) and double-sided (2.4m) vertical racks. The racks are manufactured in 3m modules with a 3m starter bay then 3m extension bays. For example a 9m run would be 1 x starter bay and 2 x extension bays. This design makes the system not only cost effective as it shares a frame but also adaptable as extension bays can be added to existing racks.
One of the main features of vertical racking is its ability to utilise space which would normally be wasted. A standard rack which is 4.2m high is desined to hold lengths up to 6m.
We can supply additional heights and sizes to suit your requirements upon request.
Dividing & Storing your Products
Our Vertical Racks can be divided into sections with the use of infinitely adjustable "D" hoop dividers. The "D" hoops provide a safer alternative to single prong arms as they have rounded corners and are a better option around operating fork lift trucks. An internal facing metal flap on the "D" hoop provides a location for labeling and stock identification. A hook to accomadate safety chains is also provided.
Single Racks to Warehouse & Yard Installations
We provide vertical racking for all budgets and requirements. Whether you're looking for an economical option or a full bespoke revamp, we have the capability to assist you optimise your space.
Our installation teams are all SEIRS (Storage Equipment Installers Registration Scheme) certified and we also have an in house Project Management Team to oversee the process. Our nationwide Development Team are also available to visit your site and discuss your requirements personally to ensure we help achieve your goals.
National Coverage
We have Regional Account Managers covering every region of the UK, with over 100 years combined experience in the racking and shelving industry. Our regional consultants are based all over the UK so we are well placed to give a local service nationwide!  
Your local rep will be able to assist and is able to visit your premises in which they will be able to provide a free design & layout service with accompanying CAD drawing, all with no obligation to buy.
Our sales office is open Mon-Fri to deal with any enquiries, and we have an in-house project manager. Whether your budget is £1k or £100k+, we will design the scheme that best suits your needs and helps to increase sales.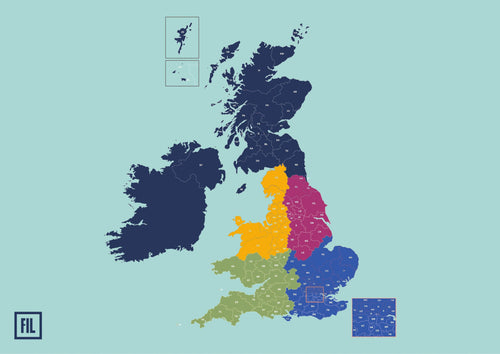 Vertical Racking FAQs
What is vertical racking?
Vertical Racking is a simple but effective system for the storage and display long products vertically. The racks consist of tall metal frames divided into sections with the use of adjustable arms or "D" Hoop dividers.
What can be stored in vertical racking?
From our experience, vertical racking is generally used to store materials such as:
Beading
Timber lengths
Copper Tube
Aluminium Profiles
Plastic pipes
Sheet Materials
uPVC
Do you install vertical racking?
Yes, we can not only design your vertical racking system, we can also install it. Our installation teams are all SIERS (Storage Equipment Installers Registration Scheme) certified so you can rest assured your vertical racking will be installed safely, efficiently and at a competitive day rate.
Helpful Tips
- Vertical Racking is manufactured in 3m modules so try to work in 3m multiples where possible.
- Ensure that you take advantage of the depth of the storage available, stock can be housed up to the front of the "D" arm.
- Make use of the adjustable D arms and store multiple items in one area therefore saving space.
SEMA Approved Distributor
The SEMA Distributor Company (SDC) qualification indicates that a company is dedicated to the supply of quality storage equipment. To become part of the SEMA Distributor Group (SDG) the company must demonstrate a high level of commitment to safety standards, work to industry codes of practice and be regulated by a random audit.

Cutting corners on rack safety could cost you much more in the long run. We strongly advise you use a SEMA approved company for any racking purchases or installations. All of our installation teams are SIERS (Storage Equipment Installers Registration Scheme) certified, so you can be assured that you are dealing with a competent company that is regularly audited by an independent and external process.