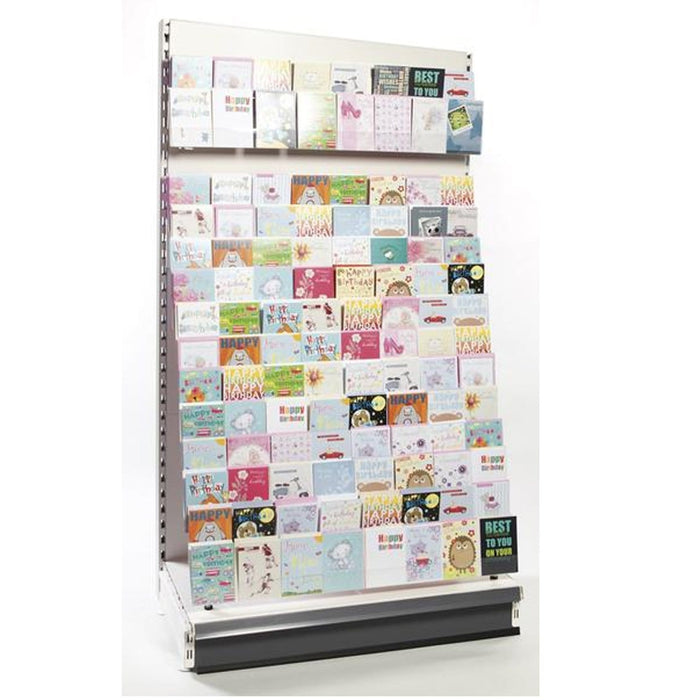 2.2m High Wall Greeting Card Display Bay
Price on application - please call us on 01430 410 450 or email sales@filstorage.com for a price. We also offer an installation service.
A single bay of shop shelving at 2.2m high with a 470mm base shelf and two PETG plastic greeting card display shelves; 1 x 12 tier and 1 x 2 tier (14 tiers in total). Choose from either 1000mm or 1250mm wide.
Sold as either starter or extension bays. A starter bay has 2 uprights, and an extension bay has 1 upright.  If you require a 3 bay run for instance, this is 1 starter and 2 extensions.
Although we now sell our shop shelving online, we are not an online only retailer. We have been shop shelving experts since 1993, and our sales team will be happy to advise with any queries you may have. Call 01430 410450, or email sales@filplastic.com.
We can supply the kick plinths in other colours (dark grey will be supplied as standard), please specify in the order notes at checkout if you would prefer one of the following colours:
Blue RAL 5002
Green RAL 6024
Red RAL 3020
Jura white RAL 9001
Black RAL 9005
Silver RAL 9006

Product Specification
Height: 2.2m high
Base Shelf: 470mm deep
Upper Shelves: Greeting card display shelves (14 tiers)
Back Panels: Plain
Scan Strip: Included (Jura white RAL 9001)
Kick Plinth: Included (Dark Grey RAL 7015)
Shelving Colour: Jura White (cream RAL 9001)
Single or Double Sided: Single

Lead time: 2-3 days