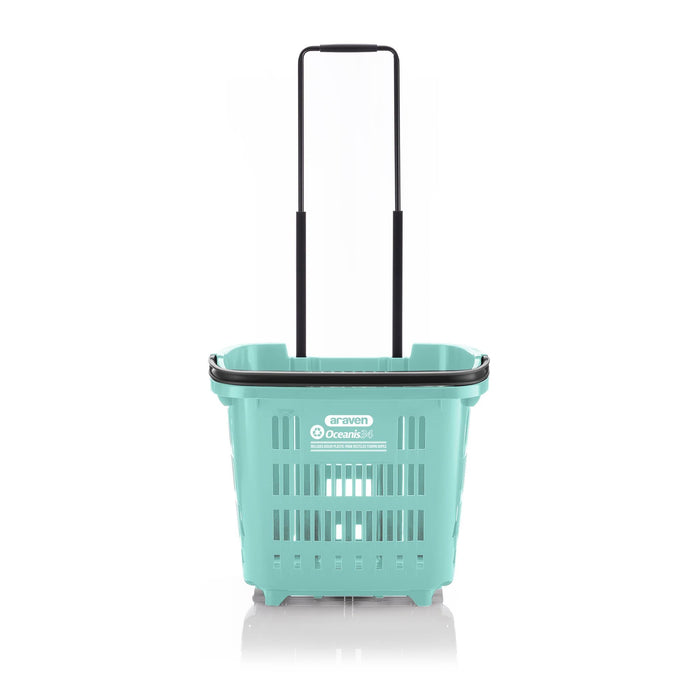 OCEANIS Plastic Shopping Trolley Basket 34L (recycled ocean plastic)
The Oceanis range of products is for those passionate about the environment and in particular ocean waste. These have been made using recycled marine plastic from discarded ropes and fishing gear. These types of equipment account for 27% of waste that pollutes the seas and one of the most dangerous due to "ghost fishing" as they trap fish and other species, so their reuse is helping to improve the marine ecosystem and reduce waste.
Shop & Roll 34 L, the most revolutionary shopping basket in terms of value and capacity
. It helps to make shopping a much easier task. Its excellent 
ergonomic design
, 
great mobility,
reliable materials, strength, and silent wheels
 make the whole shopping process a much more satisfying experience. 
Its 34 L capacity is optimal for both shoppers and storekeepers
. Ideal for different retail outlets: supermarkets, self-service shops, and convenience stores. Its capacity makes it
 

suitable for a whole range of sectors: food, textile, toys, electronic appliances, general merchandise, sports.
 
These are designed to be used on supermarket and retail outlet floors.
Benefits include:
Sturdy construction
Reinforced bottom
Retractable

 

anti-bacterial handles
Stackable, moveable
Easy to use

Quiet wheel material generates minimal noise while rolling

We can customise for large orders
Made of recycled polypropylene, and we give a second life to these fishing nets, avoiding contamination by the emission of toxic gases in the atmosphere. The Oceanis range is only available in aqua green and not any other colours.
A product that will help you lead by example! 
100% recyclable
Product Specification
Size: H 404mm x W 465mm x D 353mm
Capacity: 34L
Colour: Aqua Green
Handle: 2