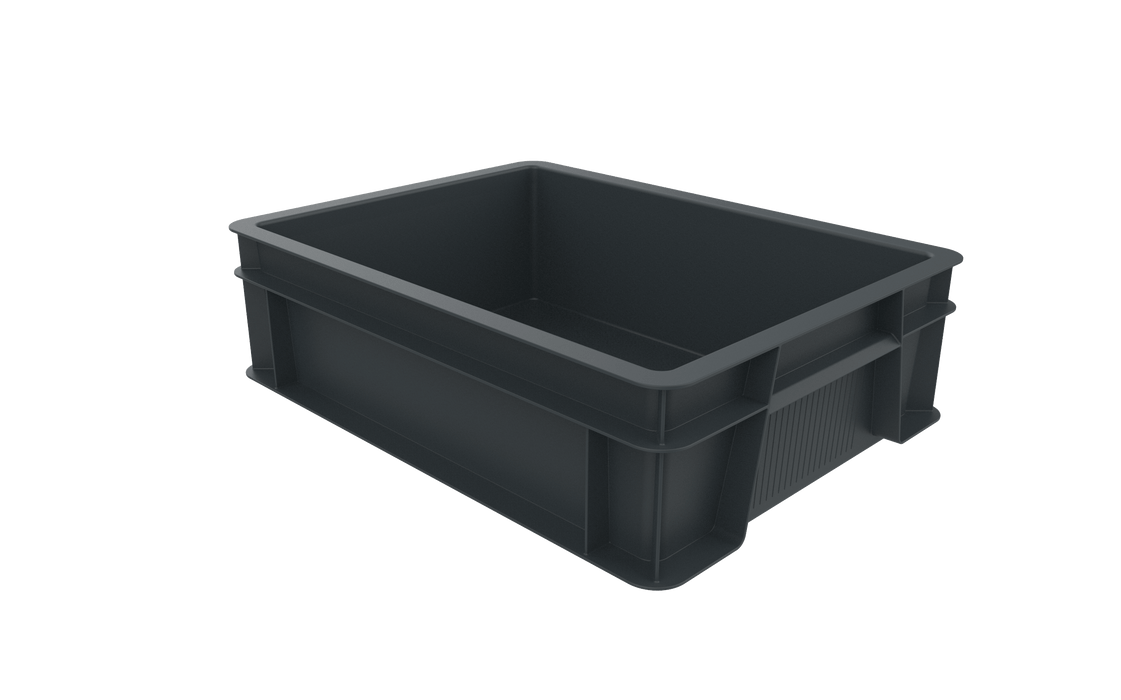 Euro Stacking Container 43-120
high quality
made in GB
stackable
universal fitting
The Euro Container 43 is a 400 x 300 footprint container that stacks for easy storage of small parts and is designed for continuous lifelong use. These high-quality and robust container boxes are manufactured in the UK and are temperature resistant from -20°c to +40°C. 
Measuring L400mm x W300 x H120mm, our Euro Container Boxes are great for storing smaller items and have a payload of 25kg and a stacking load of 250kg. Our Euro boxes stack into each other and are compatible with our loadhog dolly platforms. 
Benefits of our Euro Container 43 range include: 
Lightweight container
The Euro Container is very lightweight & ergonomic for easy operation & manoeuvrability.
Robust ribbed wall design
The ribbed wall design provides maximum rigidity without compromising on the weight of the unit.
Ergonomic handle design
The ergonomic built-in handle is designed for comfort when handling.
Easy removal labeling area
The Euro Container features ribbing texture on the short sides to make removing labels an easy, clean process.
Cross Compatibility
The Euro Container is compatible with various stacking containers on the market
Food Grade Material
Can be manufactured in food-grade polypropylene for storage of food. Please get in touch to discuss your requirements. Minimum Order Quantities will apply.  
Embossed Branding
Go that step further with a custom Euro Container 43 and have your logo moulded into the container. (MOQs Apply)

Product Specification 
Material:  High Impact Polypropylene
Temperature Resistance: -20°c to +40°C
Height: 120mm
External (mm) Length x Width: 399 x 299
Internal top (mm) Length x Width: 364 x264
Internal base (mm) Length x Width: 354 x 254
Nesting Pitch (mm): 10
Max Usable Height (mm): 117
Usable Stackable Height (mm): 107
Capacity (Litres): 10.9
Weight (kg): 0.72
Payload (kg): 25
Stacking Load (kg): 250kg
Pallet Type: UK
Quantity on Pallet: 190
Pallet height (m): Max 2.26