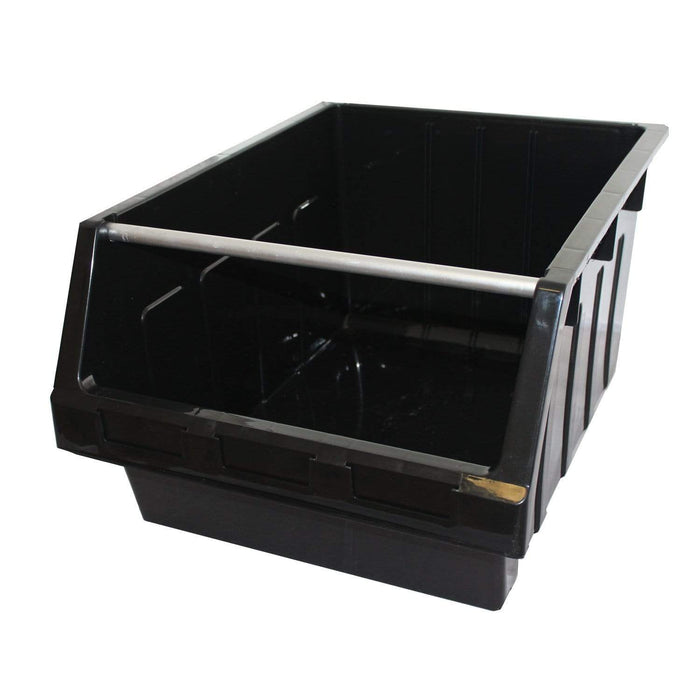 Large Stack & Nest Bin Supra 8 Stacking Storage Bin - Black
recycled plastic
stackable
Please note, the dropdown option gives you the option of purchasing the dividers or the bins. Please check you are purchasing the correct item before proceeding.
The Supra Bin is a large heavy-duty bin with a strong reinforced base, sides, and stacking rim. These bins are resistant to most industrial solvents and have been designed so that they can stack one on top of the other.
The open front design allows clear access to contents and all bins have space on the front for labeling. The bins sit flush on top of each other and a stopper prevents the stacked bins from shifting forward.
The Supra Bin is great for storing awkward goods and larger items than your traditional parts bin due to its size and strength. These are often bought for picking walls. Each bin can be separated into 3 compartments with dividers if required (dividers sold separately and individually in dropdown).
This variation is made from recycled black plastic - still as durable and robust but a more eco-friendly (and cheaper) variation.
Product Specification
External Dimensions: D600mm x W425mm x H300mm
Internal Dimensions: D530mm x W375mm x H290mm
Material: Recycled Plastic
Slots for Partition: 3 (Dividers sold separately and individually)
Colour: Black
Each stack of bins can carry up to 150kg, please refer to the drawing below.