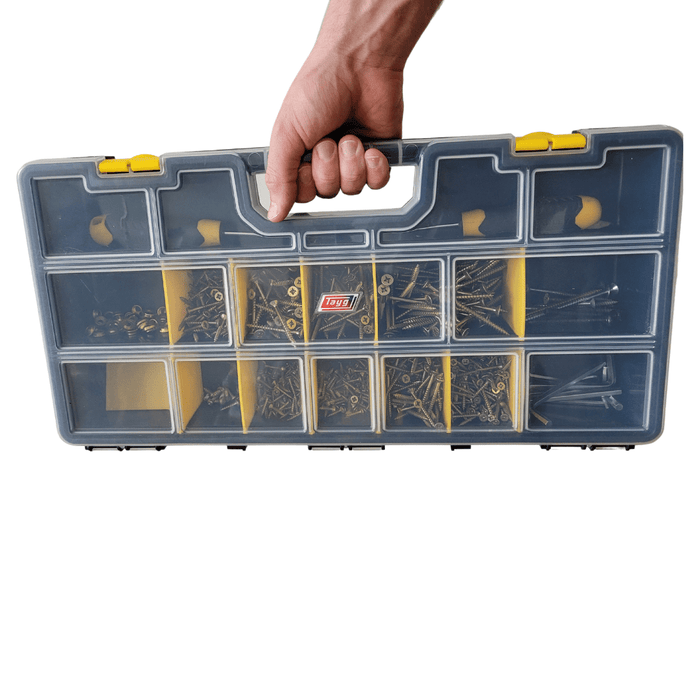 Large Organiser Case Carry Kit with Movable Dividers 49-16
Our Large Organiser Case Carry Kit is designed specifically for storing small parts such as fixings, watch batteries, crafting materials, and more. Due to its size, this travel organiser can hold slightly larger fixings and larger quantities.
These durable units are a cost-effective solution allowing you to organise, store, display, and transport your items. The built-in carry handle allows you to easily carry your items to your desired location. These are great for trades, workshops, general DIY and crafting. 

The lid is transparent allowing the contents to remain visible and the hinged lid comes with safety locking clips to secure your materials.
Each unit comes with 12 movable dividers which allow you to make storage compartments that suit your specific requirements. This gives you the flexibility to make both smaller and larger storage compartments which may help you store longer tools as well as screws, nuts etc. 
This item contains:
1 x Transparent Casing Unit - great for organising small parts
Click Shut Lid - Lids click shut with 2 front clips allowing safe storage

12 x Movable Dividers for each Assortment Box 
Fixings and tools displayed on images not included
Product Specification
Item model number: 49-16
Product Dimensions: W490 x D250 x H80mm
Material: Polypropylene