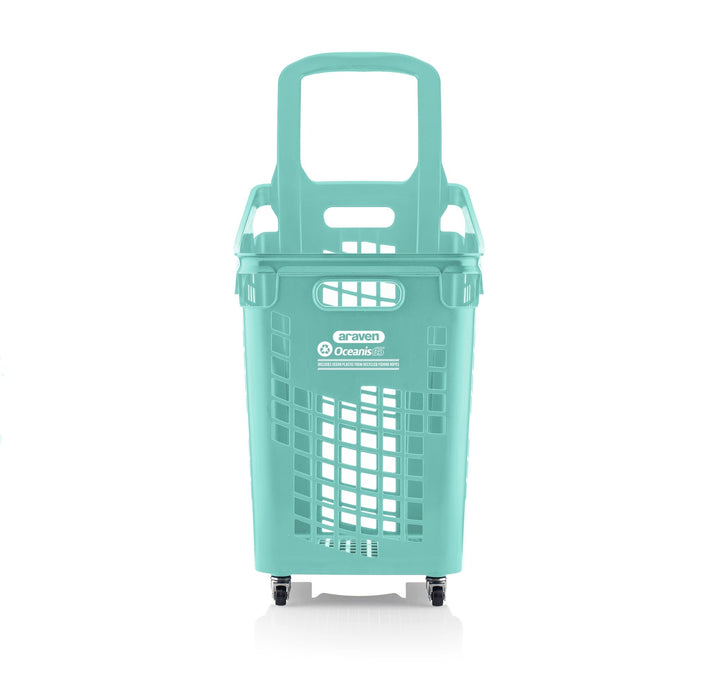 OCEANIS Plastic Shopping Trolley Basket 65L
The Oceanis range of products is for those passionate about the environment and in particular ocean waste. These have been made using recycled marine plastic from discarded ropes and fishing gear. These types of equipment account for 27% of waste that pollutes the seas and one of the most dangerous due to "ghost fishing" as they trap fish and other species, so their reuse is helping to improve the marine ecosystem and reduce waste.
The 65 L. plastic Shopping basket is easy to handle and manoeuvre and can be pushed or pulled with one or both hands for effortless shopping. A wide, flat base provides greater space for groceries and makes it easier for shoppers to organize and arrange their purchases, reducing the risk of items getting broken in the process. 
Greater resistance guarantees greater durability with a fully reinforced handle that makes the entire basket stronger and extends its useful life in stores. These are designed to be used on supermarket and retail outlet floors.
Why choose our 65L plastic shopping trolley baskets:
Sturdy construction
2 swivel (to 360°) and 2 fixed wheels
Can be stacked up to 9 baskets high (1.5m)
40kg capacity when used on 2 wheels, 50kg capacity on 4 wheels
Can be pushed as a 4 wheel, or pulled as a 2 wheel unit
Reinforced mesh to base for strength
Made as one single piece, making handle construction stronger
Can be used by shoppers of all heights
Rounded corners, so no sharp edges
Made of recycled polypropylene, and we give a second life to these fishing nets, avoiding contamination by the emission of toxic gases in the atmosphere. The Oceanis range is only available in aqua green and not any other colours.
A product that will help you lead by example! 
100% recyclable
Product Specification
Size:
Height to top of handle: 875mm
Height to top of basket at the highest point: 648mm
Height to top of basket at the lowest point: 515mm
Width at widest point: 390mm 
Depth at widest point: 540mm
Capacity: 65L
Colour: Aqua Green
Handle: 1