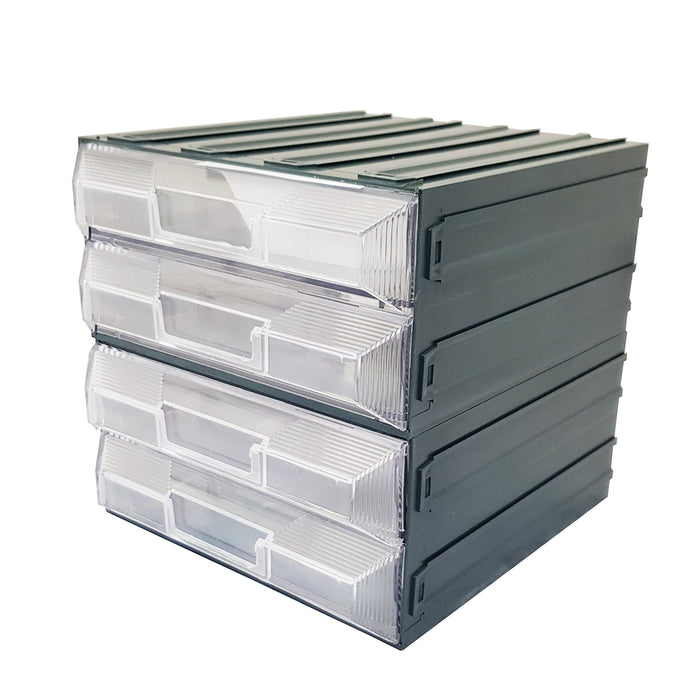 Vision Storage Block 16TR - 4 Drawer Compartment Organiser
The Vision Block range is a selection of compartment organisers that can be interlocked to create one larger unit.
The Vision Blocks simply slot in together and are also wall-mountable with pre-drilled fixing points located to the back of the unit. There are a number of different drawer options and the units can be used as a stand-alone unit if preferred.

The Vision Block range is built to a high-manufacture standard and intended for commercial use in workshops and alike. However, we have seen these used for a wide variety of purposes including storing crafting items and even in offices. The units also come with front transparent label holders, allowing you to label each compartment individually.
The Vision Block 16TR comes with 4 equally sized compartments.
Whilst any of the ranges can be interlocked together to create a solid unit, the Vision Block Range does come with a variety of different-sized units.
If you are looking to create one flush unit similar to our MEGA Units, we recommend buying the following units together:
Variety 1: Units 12, 13 & 14 (all sized: 208x132x208mm)
Variety 2: Units 15, 16 & 17(all sized: 208x222x208mm)
Alternatively, just combine a mismatch of different sizes to suit your requirements.
Product Specification
1 x Vision Block 16TR
EXTERNAL Size: W208 mm x D222 mm x H208mm
Internal DRAWER Size: W198mm x D200mm x H43 mm