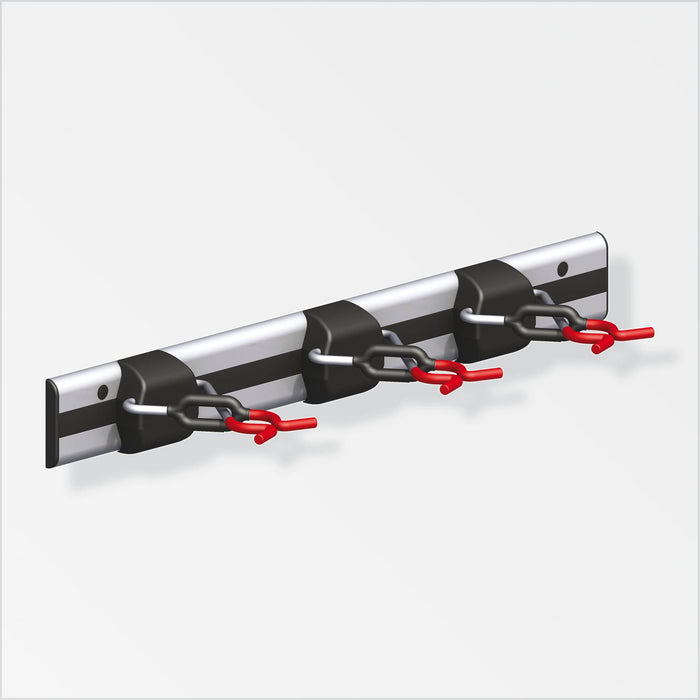 Wall Tool Hanger Rail Holder Kit
Sold out
Translation missing: en.product.item.price.original
£40.74
Translation missing: en.product.item.price.current
£30.79 ex vat
Wall Mounted Rail Hanger 
The firm grip of this hook is thanks to the integrated retaining spring and parallel clamping arms.
This is an X-Start system that comprises a rail and three x-star clamps. The system itself is continuously adjustable and extremely stable with a high load capacity. The red rubberised hooks hold products safely.
These are the perfect storage solution for garden equipment, brooms, shovels, tools, and much more. These can be widely used in vans, sheds, garages, utility rooms, and wherever you may find suitable! 
- Extremely stable hook system
- Universal use. Great in vans, garages, workshops, garden tool storage, and more.
- Easy installation.  Simply screw to your surface of choice to wall mount.
- Holds up to 40kg max load-bearing
Product Specification
Length: 500mm
Width: 50mm
Height: 20 mm
Load Capacity: 40kg max load-bearing
Item Weight: 0.703kg