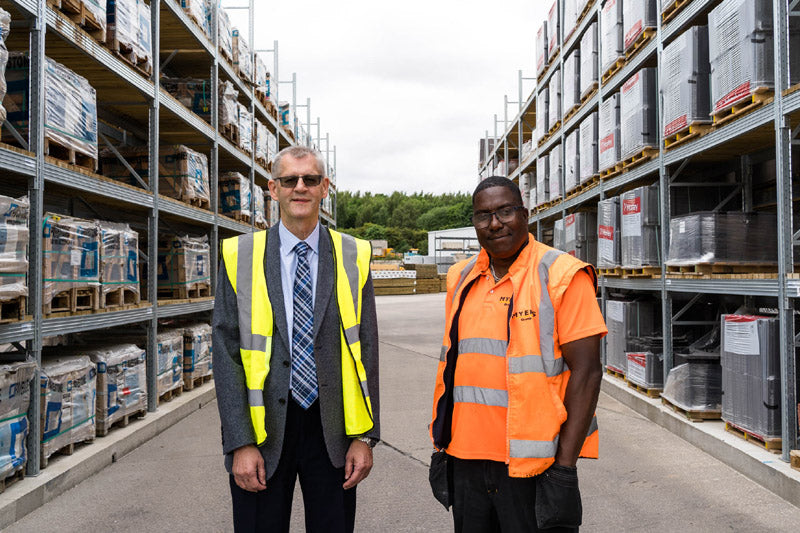 Filstorage help Myers Building supplies create one of the North of England's most comprehensive and coherent depot
A well-known building supplies specialist has created one of the North of England's most comprehensive depots with help from design and fitout expert Filstorage.

Myers Building Supplies, based on Barr Street, Huddersfield, can trace it roots back more than 90 years and is currently run by James and Katie Berry, the fourth generation of the Myers family to head the business.

Recently, Myer Building Supplies took the decision to redevelop the site surrounding its head office, which consisted of a timber merchant at one end, a timber mill, and a building supplies business at the other end.

A large and underutilised yard lay at the centre of the site, giving the business significant scope for redevelopment and to create a purpose-built one-stop-shop for building companies and contractors across the region.

James Berry, managing director of Myers Building Supplies, said the site now provides a comprehensive range of heavy building materials, timber, plumbing and heating and lightside accessories, as well as a modern kitchen and bathroom showroom, and landscaping display.

He added the biggest change had been creating an expansive and coherent depot – one of the most comprehensive in the north – providing a welcoming site suitable for both trade and retail customers.

James said: "We're in fantastic location in Huddersfield. The site is large, accessible, and well known. We've been here a long time so almost all the tradespeople in the area know us.

"However, we weren't realising as much potential from the site as we could have done. Customers were going to the timber merchant first, then driving to the building supplies site in order to get the complete range of products. It was all a bit disjointed.

"So, we set about creating a completely coherent site where everything was connected. This included an overhaul of the yard to provide better parking and more storage space, a refurbished trade counter and shop, and building a brand-new warehouse. The project involved a significant investment but one worth spending in order to improve the customer experience."

Myers appointed East Yorkshire-based racking experts Filstorage to support them on the scheme, to help create a design the layout plan as well as providing shelving, racking and wire baskets.

Gary Winter, Filstorage business development manager for the North East, oversaw the project which represented a six figure sum investment on the part of the builders' merchant.

Mr Winter said: "Myers already had a good idea of what they wanted, and they appointed us to help them achieve that.

"We worked closely with them to come up with a design that would enable all the different aspects of the business to work together and then set about creating it.

"In the shop, we supplied and fitted integrated shelving, display shelving and plinths, and wire baskets to make product picking more efficient.

"We put pigeonhole racking with a floor on top into the warehouse, and pallet and cantilever racking in the warehouse and yard.

"It was a really comprehensive job that has resulted in a market-leading builders' merchant depot supplying all materials needed for construction projects."

Gary added that Filstorage was on site for around three weeks, a quick turnaround considering the extent of the job.

"It was a great project to be involved in," he said.

"The site is absolutely fantastic, and we're delighted to have played a part in bringing Myers' vision to life."

The Myers Group can trace its roots to 1929 when it was founded as Isaac Timmins Ltd, a housebuilding business in Huddersfield.

However, the modern company dates back to 1959 when Readymix Huddersfield – a business providing ready mixed concrete in Yorkshire – was incorporated.

In 1973, the Myers Group formed a joint venture with pipework manufacturer Naylor to create builders' merchant Naylor Myers.

In 1979, the Group acquired Johnsons Wellfield, a quarrying business that owns the famous Crosland Hill quarry near Huddersfield producing natural hard Yorkstone, and in 1988 it added Honley Skip Hire to its portfolio.

The Myers Group purchased Naylor's stake in Naylor Myers in 1992 and the business was subsequently rebranded to Myers Building Supplies, which today has 14 branches throughout Yorkshire.

Katie Berry, director, added that the newly created head office site had transformed the customer experience.

"The site has a joined up feel now," she said.

"It's been thoroughly modernised, extended and improved, enabling us to give our customers a better, more efficient service. We're really pleased with how it has worked out."