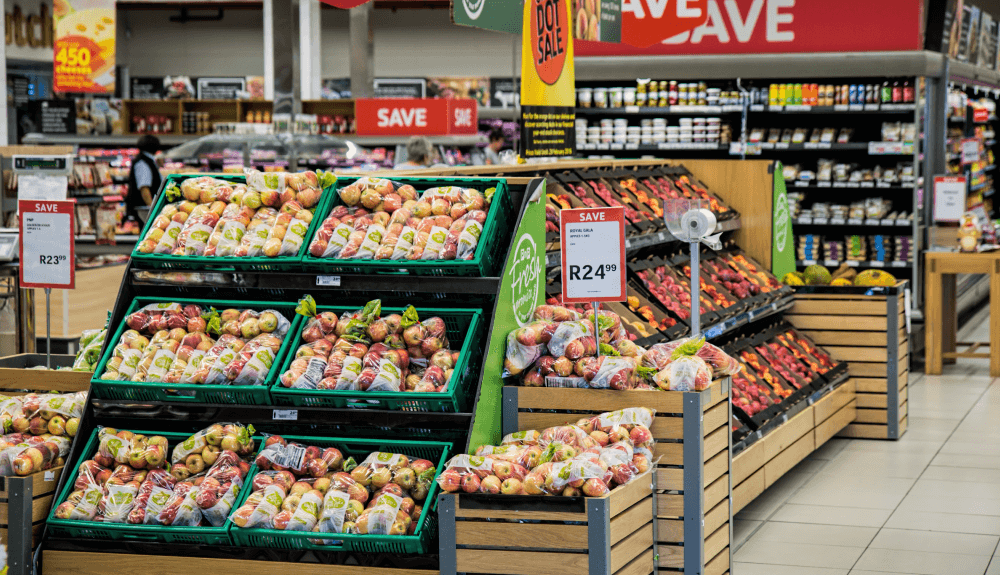 Your Comprehensive Guide to Shop Refits in the UK
A study led by the British Retail Consortium found that a shop refit can significantly increase sales. Not only that, it's also been proven that customers are more likely to enter a store with an appealing layout and environment. Here at Filstorage, we've been offering shop refits in the UK for over three decades — we're experts in what we do. If you've ever had any questions or thoughts regarding a shop refit, you're in the right place. Here's our comprehensive guide to shop fittings and refurbishments in the UK. 
What is a Shop Refit? 
A shop refit is the process of updating or renovating the appearance of your store. Shop refits come in a range of shapes and sizes, some are just a simple change to shelving structure, whereas some are a complete overhaul and total reconstruction of the store's layout, fittings and fixtures. 
It's crucial that your store refit is carried out as quickly as possible and in the most effective manner to maximise your profits, sales and return on investment. That's where our team of experts here at Filstorage can help you. 
What Does a Shop Refit Consist of?
Every shop refitting and refurbishment is different and bespoke to your store. Whatever your refit needs, our team can sort it! Refits are often complex processes that consist of a huge range of different things. Typically, shop refits consist of:
New retail shelving 

Improved customer flow and assessment of POS

New signage and branding 

New layout and merchandising

Security & safety upgrades 

New technology including digital displays & self-checkout systems if required and dependant on budget. 
A well-executed shop refit can have a huge impact on your business, no matter how big or small the refit is!
Why Consider a Shop Refit? 
The benefits that come with a shop refurbishment are endless, as mentioned, it's proven that sales can be increased and more people are encouraged to enter your shop - here are some more reasons why you should consider a shop refit.
A Better Work & Shopping Environment 
Everyone is happier in a more comfortable and engaging environment. Whether that be employees or customers. Staff always appreciate new facilities and a more efficient floor layout to make their jobs easier. If your staff are happy, they're more likely to provide quality customer service.
If customers are receiving quality customer service then their shopping experience is improved. Not only this, customers are much more likely to have a better experience in a store that has modern and clean facilities. 
Make Your Store More Efficient 
With the shop refit service here at Filstorage, we have a team of experts who can put together a design that gets the absolute most out of your space. Our team has a wealth of knowledge and experience in creating the most customer-efficient space, following customer behavioural and cognitive psychology theories — to help maximise customer sales. 
Improving customer flow and assessing your current POS offering can enhance not only the customer experience but also encourage upselling and cross-selling opportunities. 
Improve Footfall
Everyone loves something new and a store refurbishment offers exactly that! It can be a great opportunity to change your old look and offer a more modern and encouraging one with people immediately coming through your door. 
A store refit with Filstorage will allow you to offer your customers something completely new and different that will have them coming back again and again! 
How Much Does a Shop Refit Cost in the UK?
There's no definite answer in regards to how much your shop refit will cost you. Several factors influence the price including:
The size of the refit 

The materials involved & what you need to do

How long the refit will take.
Although it's impossible to put a price on your refit right now, by getting in touch with your local account manager, they will be able to give you further guidance and book a free design & layout quote with an accompanying CAD drawing.
What to Consider When Planning a Shop Refit 
It's no surprise that a store refurbishment is not an easy task and there are a few things to make sure you consider. Refurbishments can be a costly and timely investment so here are our top things to consider when planning a shop refit.
Set Your Budget 
By setting your initial budget, you're able to set an initial plan of what it is you want, doing this at the start of the project allows you to plan for any unexpected costs that may crop up during the process. Here at Filstorage, we've worked with both small budgets and large budgets. No matter the budget, we've provided a refurbishment that is suitable for their budget. 
Plan for the Timescale
The time it takes for a shop refit to be completed varies depending on the project, sometimes it can be as quick as a couple of weeks, and sometimes it may be a couple of months. It's important to plan the timescale. With every project we undertake here at Filstorage, we aim to get it completed in the most time-efficient way possible however you should plan for some disruption, just in case.
Communicate To Your Customers and Staff
Another important thing for you to consider is how the refit will impact your customers. Your store may potentially need to temporarily close whilst the project is completed, you should consider informing customers well in advance of the closure. Trying to minimise customer disruption should be a priority to ensure they want to come back after the completed project. Keeping customers and staff informed of the plans and the impact on them is essential. 
Shop Design & Fitting with Filstorage 
Here at FIlstorage, we're proud to offer an unrivalled shop design and fitting service. We have a highly skilled team of development managers based around the UK who can personally visit your site and provide a free design & layout service, with no obligation to buy. 
The team here specialise in layout and display design so can maximise your selling potential with the space you have. Our experts are also highly trained in providing a design and layout scheme that will fit your budget, whether that be £1000 or £100,000. 
Shop Fitting Supplies Available at Filstorage
If you aren't looking for a full shop refit but just need a bit of a refresh within your shelving and display systems, we can also help with that! For decades, we have been a leading supplier of retail and shop supplies, providing everything from shopping baskets, trolleys and display equipment such as shelves and baskets to thousands of businesses including the likes of Holland & Barret, The Entertainer and Hotel Chocolat. 
Queue Shelving Systems 
A queue shelving system is a type of retail display that is specially designed to manage customer flow and promote impulse buying. Typically, queue shelving systems are located at the checkouts and are arranged linearly, they can be customised to fit nearly all retail spaces. There are several reasons to consider a queue shelving display system including: 
Improving and Controlling Customer Flow
An effective queue management system is put in place to help direct customers towards the checkout area in a linear way. Not only does this help reduce congestion within the checkout space, it also helps improve customer experience. Whilst customers are queuing, they have the opportunity to have something to explore, rather than standing there doing nothing. 
Promote Products & Impulse Buys
Queue Shelving is the perfect system to promote new products and special offers. Whilst customers are queuing, they're more likely to have the time to explore and read the products on offer. Because they're standing there reading the products and offers, they're more likely to impulse-buy.
Queue shelving systems have been proven to increase sales of products, specifically on impulse purchase items such as sweets, gum and magazines.
Dump Baskets 
Dump baskets are another accessory available at Filstorage. Dump baskets are large, open-top containers that are used to display and sell merchandise. They're most commonly used for promotional items, clearance items and seasonal items — here are some benefits of why dump baskets may be perfect for your store. 
Very Cost Effective & Versatile 
Dump baskets are a cost-effective way to bulk display your items. They're also extremely versatile and can hold an array of items including seasonal items, toys, clearance items and sporting items. They're also extremely easy to get customer's attention due to their size and attractive appearance. 
Easy to Set Up, Maintain & Move
Dump baskets are incredibly easy to set up and move — this is what makes them great for seasonal displays. Because they're so quick to set up and move, you can put them up overnight ready for the season transitions and display them in your store's hotspots! 
As well as this, they're incredibly easy to clean. Just a simple wipe-down will keep your dump baskets looking as good as new. 
Retail and Commercial Slat Walls
Retail and commercial slat walls are wall panels with horizontal grooves that can be used to display all sorts of merchandise and products including clothing & shoes, home decor & accessories and sporting equipment — the possibilities are almost endless! Slat walls can be mounted on a wall or a central pillar to provide an aesthetically pleasing display. Some of the benefits of retail and commercial slat walls include:
Versatility 
Commercial slat walls are incredibly versatile in the way they look and the way they can be used. With the range of slat wall accessories, you can display everything from clothes, shoes and sporting equipment to things like power tools. 
Not only are they versatile in their uses, but they can easily be finished in colours to match your company and brand colour schemes to keep your store looking aesthetically pleasing for your staff and customers. 
Save Space with Slat Walls 
In outdated shops, you often see big and bulky shelves taking up an unnecessary amount of floor and wall space, this isn't at all effective and can hinder your business efficiency and customer experience. 
Slat walls are placed directly against a wall meaning there aren't any more bulky shelves taking up wall & floor space. This gives your customers more space to manoeuvre and it also allows you as a business to make the most out of the space you have available. 
Extremely Durable 
Our slat walls are made from durable materials so that they can withstand heavy commercial use. With the Filstorage slat walls, you're guaranteed to get the most from your money given how good they look and how long they last, making them an invaluable addition to your shop refit!
Other Shop Fitting Supplies Available at Filstorage
As a leading supplier of shop fitting supplies, we stock everything you're going to need to refresh our store's fittings yourself. As well as dump baskets and queue shelving, we also supply:
Shopping baskets

Supermarket trolleys

Staking wire display baskets

Shop shelving 

Mobile & stacked basket sets 

Slatwall accessories
Take a look at our full retail & shop collection list online!
Everything You Need to Know About Shop Refits in the UK 
When considering a shop refit, you want to know your money is being invested in the best way possible. If we have yet to cover your questions or queries in this guide, these shop refit FAQs will! 
How Long Does a Shop Refit Take? 
Similar to the cost of a shop refit, there isn't a one-answer-fits-all solution. The time it takes to complete a shop refit depends on several factors that determine the duration of the project. From the very start of the project, you need to consider the time it takes for the planning permission to be approved, you then need to consider the time it takes to design the shop refit and for the design to be approved and finally, then physically start the shop refit. Typically, a shop refit can be expected to take 4 to 8 weeks — however, this should be taken with a pinch of salt! This primarily depends on the size of the project, which may involve other trades. We can usually have shelving and retail equipment quickly with some refits only taking a day or two! 
Will Your Shop Be Closed During the Shop Refit?
During a full shop refit, your store will typically be closed to allow for the full work to be carried out as efficiently and safely as possible. If you do need to close, it's important to plan ahead and inform your customers well in advance. If you're undergoing slight refurbishment, this may be able to be completed without closing your full store. 
How is the Layout Designed?
Your shop refit layout will be designed with you in mind. Each shop refit is completely bespoke to you and within your budget. Our team listens and works closely with you throughout the process to ensure you get your perfect store refit. 
Can You Refit a Shop Yourself?
Although we do offer all of the products you'd need to refit your shop yourself, we would highly recommend that a team of professionals be there to complete the project. There are many rules and regulations to follow and simply, the professionals know what they're doing. If something goes wrong when doing it yourself, you could end up paying much more for maintenance and repairs! 
Why Filstorage is Your Best Option for a Store Refit 
Here at Filstorage, we take all of the pressure off your hands. Our service is completely stress-free for you, all you have to do is step back and let our experts do the hard work. Not only that, we provide some of the most competitive prices on the market and can cover every corner of the UK — from the depths of Cornwall to the Scottish Isles! 
If you are interested in a shop refitting service in the UK, we are your solution. Get in touch with your region manager today to ask further questions and to get your dream project started!