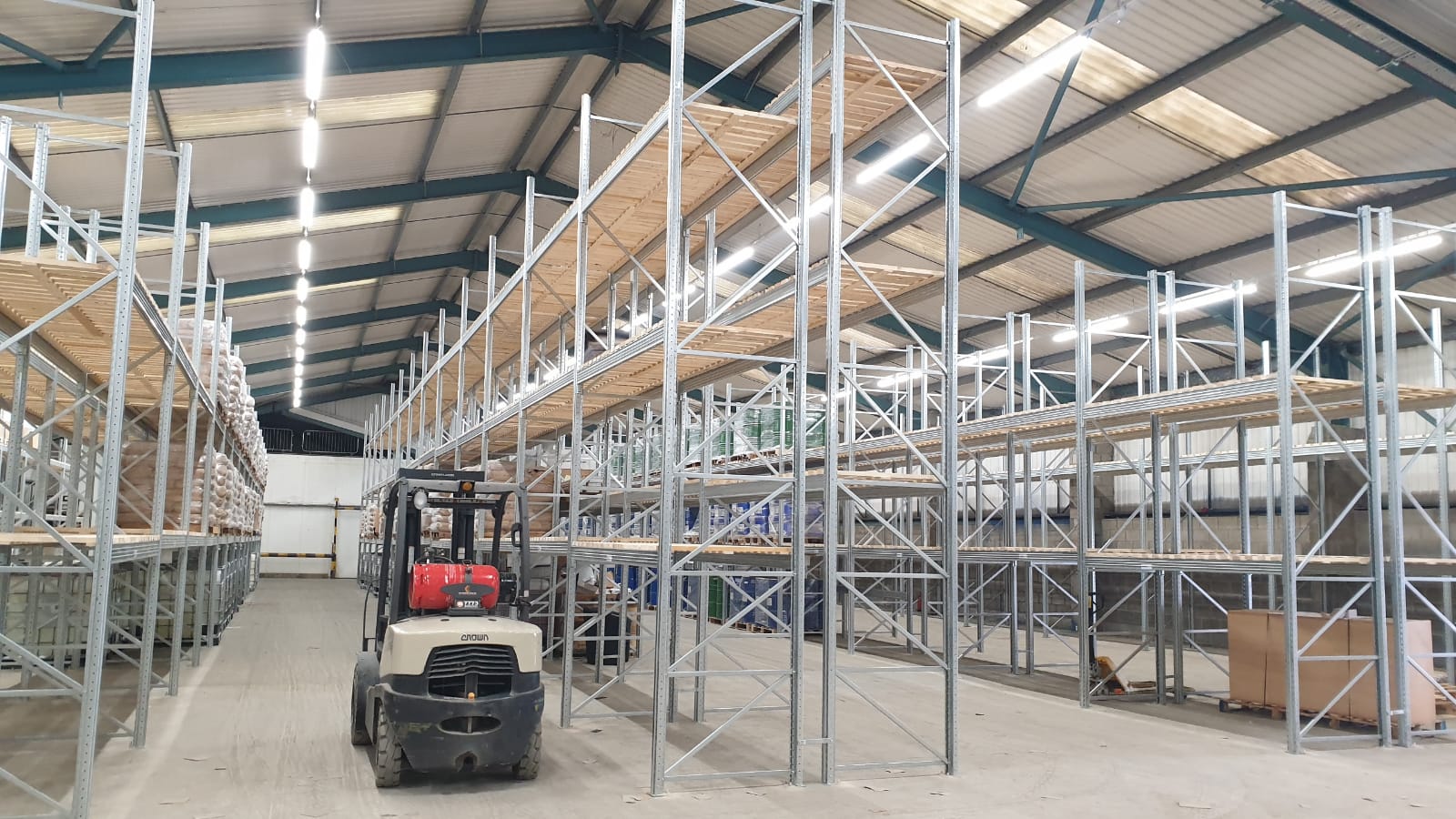 Our simple quick guide to heavy duty warehouse pallet racking
What is pallet racking?
Pallet racking or warehouse racking is an industrial storage solution where pallets of goods are stored on heavy duty shelving, increasing maximum storage space. It is a versatile system with many frame heights and beam lengths available.
What does pallet racking consist of?
Standard pallet racking is usually manufactured from steel and consists of uprights or frames, beams and decks. The uprights dictate the height of the racking system and are connected by horizontal beams. Timber or metal decks are then usually added on the beam levels, although this isn't always necessary as sometimes pallets can be stored directly onto the beams without the need for decking.
How much weight does pallet racking hold?
Pallet racking can be provided to suit a variety of different weight options from both lighter duty requirements (1000kg per level) to heavy duty (3000kg+). This will depend on what you are intending to store on the racking. The height, width and depth of the racking can also affect the overall weight capacity. It is essential that pallet racking is not overloaded as this could lead to collapse. Our team are always happy to visit and help you find the right racking for your requirements. 
What can be stored on pallet racking?
Pretty much any products that can be stored on a pallet can be stored on the racking. Some of our previous installations have been to store:
- Paving slabs
- Boards
- Bagged Goods
- Doors
- Fencing
- Roofing products
We would strongly advise that goods do not overhang the racking as this could present risks.
What size pallet racking is available?
We supply all sizes of Pallet racking. Our standard pallet racking frames are 5000mm high, 2700mm wide and 930mm deep and have 3 beam levels per bay, however we can tailor a solution to suit your needs with both smaller and larger options available. Standard beam sizes include 1350mm, 2000mm, 2700mm, 3000mm, 3300mm long. Standard depths include 900 – 1200mm deep.
How do I install pallet racking? Can you arrange pallet racking installation?
Pallet racking must be installed by competent individuals. We only recommend that this is installed by qualified teams. We work directly with racking manufacturers to ensure that specific requirements are met and to ensure the safety of the racking system. Our nationwide installers are all SEIRS (Storage Equipment Installers Registration Scheme) certified so you can rest assured your pallet racking will be installed safely, efficiently and at a competitive day rate.
What are the benefits of using pallet racking?
The main benefit of utilising pallet racking is that it can hugely increase your storage capacity. Rather than stacking pallets of goods on the floor, you would be able to utilise that footprint and store upwards, allowing you to make use of otherwise wasted space. You can add additional levels to make the racking work for your specific needs. This in turn can reduce storage costs, as your able to utilise a smaller footprint meaning that you may not need to expand or move site to a larger premises.
Warehouse Pallet racking can also provide a long-term storage solution. If regularly maintained and inspected pallet racking can last a conditional period of time. It's all very versatile with the option to add on additional levels and bays if required.
Pallet Racking is also a great way to implement stock control and with identification labels and markets easily added, it can improve picking times and reduce handling and transport.
What to consider
The main considerations of using pallet racking are what do you need to store and how much space do you have? Both of these questions will allow you to understand what is feasible and what racking configuration is required. It's also worthwhile looking at potential expansion to futureproof your designs if required as your business grows.
Can I use pallet racking outside?
Yes, although we would recommend using galvanised Pallet racking as opposed to a painted finish. Galvanised pallet racking is weather proof and can be used internally and externally. It is also anti-rush and corrosion which will help protect the integrity of the racking. We hold huge stocks of galvanised pallet racking which can be delivered to your site within a week.
Different types
There are many different types of Pallet racking available dependant on your requirements and constraints. Here are some of the more commonly used options.
Adjustable Pallet Racking
This is the most common type of pallet racking. This system is versatile and efficient is available with selection of upright heights and beam options for custom configuration. Pallets are loaded and unloaded from the front via Fork Lift Truck. 
Drive in Pallet Racking
This is ideal for warehouses where space is tight. Aisles are not required as the forklift enters through the front of the racking system to create a bank of pallets and then back out. This is a great space saving warehouse racking option.
Narrow Aisle Pallet Racking
Another warehouse racking solution where space is tight. Narrow Aisle Pallet Racking is an variation of adjustable pallet racking, which is adapted to make better use of the space available. Narrow Aisle racking essentially allows you to store more pallets in a smaller space. This can be slightly more difficult to manoeuvre round in a forklift, which is why adjustable pallet racking tends to be the more popular option.
Double Deep Pallet Racking
Again, this is another variation of adjustable pallet racking which allows for extra depth and provides access to two pallets from the same side of the aisle. This can also save space due to the need for fewer aisles to create access.
Mobile Pallet Racking
Mobile pallet racking is another space-saving warehouse racking solution. The racking system runs on in ground rails that allow you to open and close aisles. This is a more expensive option in terms of initial outlay but great for cold stores and other scarce storage spaces. These are highly efficient and may increase warehouse efficiency.
There are other different types of Pallet racking. If you're unsure what type of pallet racking you require or are looking at a specialised system, then get in touch with our team today. Our team will survey your premises and discuss the available options with you.
Book your free site visit/Enquire online and find out more about pallet racking here: https://filstorage.com/pages/pallet-racking
Call: 01430 410 450
Email: Sales@filstorage.com