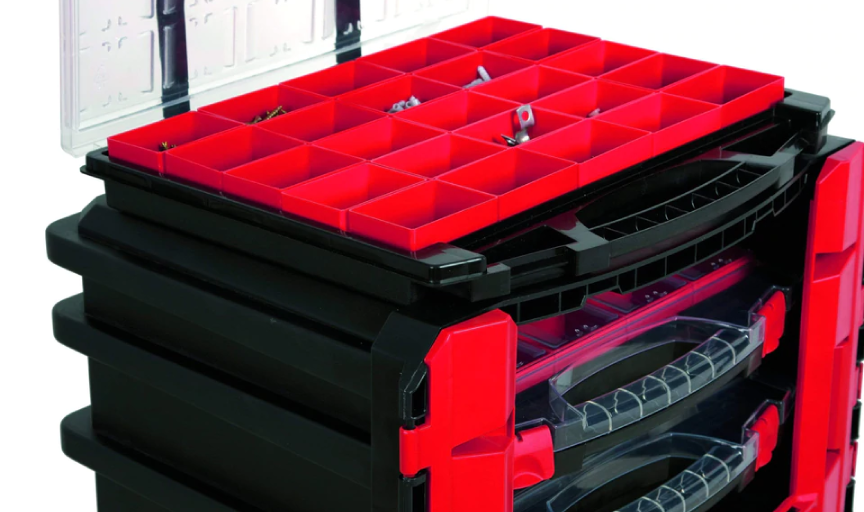 User Tested and Approved Van Storage Solutions
Through years of product testing, user reviews and first-hand experiences, we only supply van storage solutions that make a practical and positive difference to the user. Our van storage solutions are designed to save time, enhance efficiency and allow the user to utilise their van space to the maximum. 
At Filstorage, we categorise our van storage solutions into four primary groups — tilt bins, travel and fixings carry kit organisers, tool storage & toolboxes, and storage containers. 
Tilt Bins
One of our best selling ranges, tilt bins are especially useful for tool storage because of their individual box sizes and clear windows for easy product identification. Our tilt bins have been specially designed for van usage and to remain closed during transit. 
Available in a complete range of sizes and specifications, we have a universal solution to fit a wide range of vans sizes and styles. 
Travel and Fixings Carry Kit Organisers 
A necessity for many of our customers, our range of travel and fixings carry kit organisers do exactly that! Giving ultimate control and flexibility to take fixings and small parts directly to a job, they allow the user to be more efficient and time-controlled whilst remaining fully organised. 
Tool Storage & Toolboxes
There is no 'one size fits all' with tool storage and toolboxes. From small plastic stacking storage bins to 65L plastic storage boxes, our range of van storage boxes allows the user to keep their tools fully organised and tidy throughout transportation and job completion. 
Storage Containers 
Having closed storage containers is not always practical, which is why we stock a range of open-front plastic stacking storage bins too. Due to the personal preferences of van storage and individual requirements, our plastic storage bins and boxes are available in a range of depths, widths, heights and colours for easy identification. 
Discover our full collection of van storage solutions.