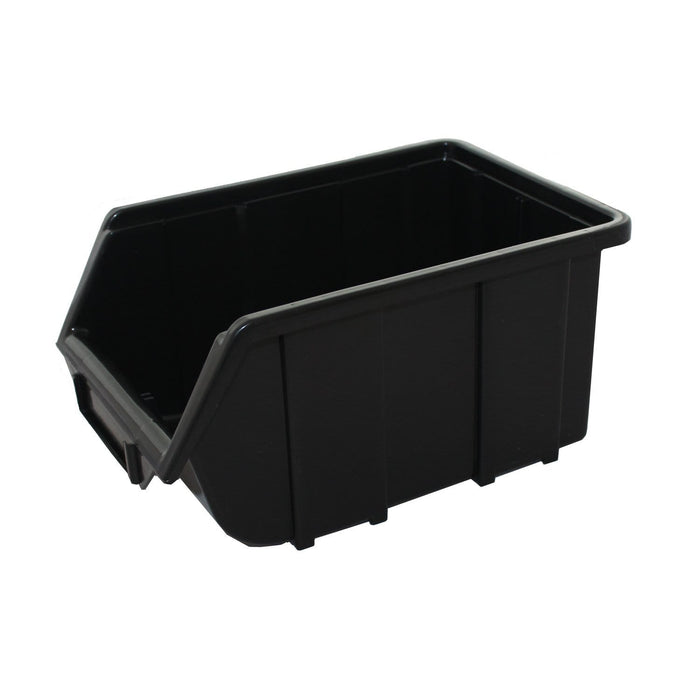 Black Recycled Plastic Parts Storage Bin FB2
louvre panel friendly
recycled plastic
stackable
We stock high-quality and durable plastic parts bins that are designed to withstand commercial and industrial environments.  Our Parts Bins range come with an open front design and are great for storing small parts such as nuts & bolts, screws, buttons & craft materials as well as other bits and bobs! Our Parts Bins can be used in any setting and are widely used in factory & workshop environments, offices, garages/sheds etc.
FB2
This range is both stackable and can be used on our range of louvre panels. This gives you the option as to whether you'd prefer to stack the bins on top of each other or mount them onto one of the varying styled louvre panels that we can supply.
Our black plastic parts bins are created from recycled plastic making them a more eco-friendly and also cheaper alternative to our standard ranges. Despite being made from recycled plastic, these are still every bit as durable and robust as our standard ranges.
The design of this bin also allows for labels to be placed on the front (labels not provided) and the 'feet' on the bottom of the bin helps prevent slipping on smooth surfaces.
Product Specification
Dimensions: W160mm x D250mm x H129mm
Colour: Black
Material: Made from 100% recycled plastic
Stackable or use with louvred panels.