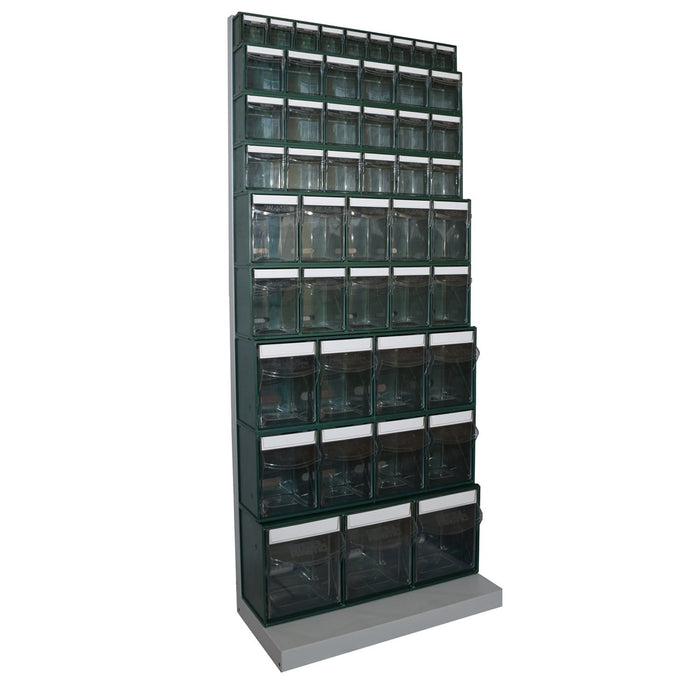 Complete Tilt Bin Stand with Base (S514)
Low Stock
Save

5

%
Translation missing: en.product.item.price.original
£376.36
Translation missing: en.product.item.price.current
£297.95 ex vat
Complete Tilt Bin Stand with Base S514

The S514 Tilt Bin stand has been designed especially for use with our Tilt Bin range. The frame allows you to secure your multiple Tilt Bin Units with minimal effort. Instead of securing each unit individually, you simply slide your units into the frame to form a complete unit (see images). Great for both workstations and workshops as well as van storage.
Tilt Bin Range
Help sort your van or workshop out with our ever-popular Van Tilt Bin Range. These are widely used because of their robustness.
- They don't shatter in the cold and can withstand temperatures up to - 40°C.
- The viewbins tilt forward independently (while still secured in the unit), or can be removed altogether if desired. 
- A locking bar is included as standard which can be used to secure all the bins closed if the vehicle is in transit.
- Keyhole slots for easy wall mounting (simply screw them to your surface of choice - these will attach to any wooden surface in a van). 
The entire range is made up of different size compartment units giving you a selection of options depending on your requirements. You can purchase the tilt bins individually or in kit form (a bundle of sizes) which work out slightly cheaper. 
This unit consists of:
1 x S514 Stand with Base
1 x Tilt Bin 3 (3 compartments)
2 x Tilt Bin 4 (4 compartments)
2 x Tilt bin 5 (5 compartments)
3 x Tilt Bin 6 (6 compartments)
1 x Tilt Bin 9 (9 compartments)
Product Specification
S514 Overall Frame Size: 605mm wide x 300mm deep x 1400mm high for bins plus 50mm for base overall height 1450mm
Tilt Bin 3 Size: 600mm wide  x 214mm deep x 240mm high
Tilt Bin 4 Size: 600mm wide  x 177mm deep x 206mm high
Tilt Bin 5 Size:  600mm wide  x 135mm deep x 164mm high
Tilt Bin 6 Size: 600mm wide x 94mm deep x 112mm high
Tilt Bin 9 Size: 600mm wide  x 68mm deep x 76mm high

Metal Safety bars for extra security in transit - INCLUDED on Tilt Bins