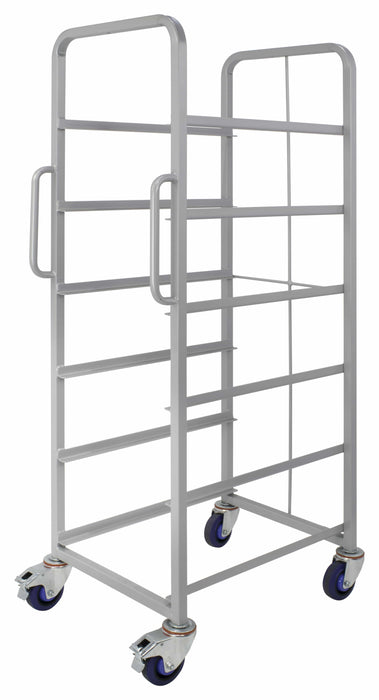 Euro Stacking Container Tray Trolleys
The Euro Stacking Container Tray Trolleys are available as a complete unit with removable Euro Containers or as a bare trolley unit.
These are manufactured to a fully welded construction creating a heavy-duty and durable unit with a load capacity of up to 250kg.
The Trolley units also have fitted handles which allow for easy maneuverability and control of the unit. whilst the rear safety stop prevents the euro containers from slipping when loading. 
The tray trolleys are also fitted with two braked castors allowing you to create a static unit if required. The wheels are all 100mm in diameter swivel vulcanised blue rubber, offering low rolling resistance, which allows for easier handling and control. The wheels are also non-marking and highly durable making these great for workshop, warehouse, and factory environments.
All of the Euro container trolleys are the same size with the 6-tier trolleys being suitable for euro containers up to 200mm high and the 8-tier trolleys being suitable up to 120mm high:
Height:

 

1500mm
Depth:

 

700mm
Width:

 

470mm
Max Capacity:

 

250kg
We offer standalone trolleys without containers and 2 complete options for the 6-tier unit and 1 complete option for the 8-tier unit. All containers are provided in grey.
Delivery Lead time is 15-20 working days
Product Specification
6 Tier Trolley Only - to suit up to 200mm high containers
Height: 1500mm
Depth: 700mm
Width: 470mm
Max Capacity: 250kg
No containers provided
8 Tier Trolley Only - to suit up to 120mm high containers
Height: 1500mm
Depth: 700mm
Width: 470mm
Max Capacity: 250kg
No containers provided
Complete 6 Tier Trolley with 600x400x170mm Euro Containers
Height: 1500mm
Depth: 700mm
Width: 470mm
Max Capacity: 250kg
Euro Containers: 6
Euro Container External Size: 600 x 400 x 170mm
Euro Container Internal Size: 560 x 360 x 157 mm
Complete 6 Tier Trolley with 600x400x200mm Euro Containers
Height: 1500mm
Depth: 700mm
Width: 470mm
Max Capacity: 250kg
Euro Containers: 6
Euro Container External Size: 600 x 400 x 170mm
Euro Container Internal Size: 560 x 360 x 157 mm
Complete 8 Tier Trolley with 600x400x120mm Euro Containers
Height: 1500mm
Depth: 700mm
Width: 470mm
Max Capacity: 250kg
Euro Containers: 8
Euro Container External Size: 600 x 400 x 120mm
Euro Container Internal Size: 555 x 358 x 105mm
Delivery Lead time is 15-20 working days