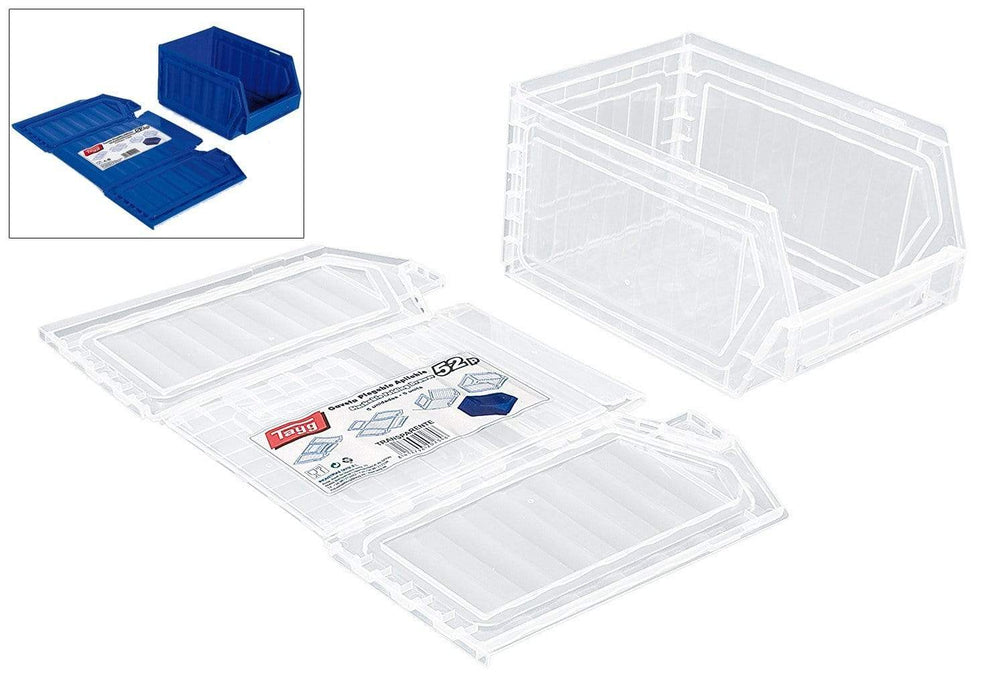 Medium Flat Pack Plastic Storage Bins (Pack of 5)
easy self assembly
stackable
Save

10

%
Translation missing: en.product.item.price.original
£14.96
Translation missing: en.product.item.price.current
£11.23 ex vat
We stock high-quality and durable plastic parts bins that are designed to withstand commercial and industrial environments.  Our Parts Bins range come with an open front design and are great for storing small parts such as nuts & bolts, screws, buttons & craft materials as well as other bits and bobs! Our Parts Bins can be used in any setting and are widely used in factory & workshop environments, offices, garages/sheds etc.
T52P – Flat Pack Parts Bin
The T52P is our medium-sized flat-pack parts bin. The bins are supplied flat pack for easy self-assembly with no tools required. The bins simply lock together to complete each unit with build-up time taking seconds.
These are manufactured from high impact polypropylene and can be used on a shelf, or simply stack on top of one another. However, these products are not suitable to be used on louvre panels.
This is a durable and robust bin that is best suited for smaller fittings. The design of this bin also allows for labels to be placed on the front (labels not provided). The Flat Pack Range come in two colours: Clear and Blue.
 Pack of 5 x Flat Pack Plastic Parts Bins
Product Specification
Size: W160m x D236mm x H130mm
Product Code: T52P
Quantity: Pack of 5
Stackable: Not for use on louvre panels.
Material: High Impact Polypropylene
Colour: Clear or Blue