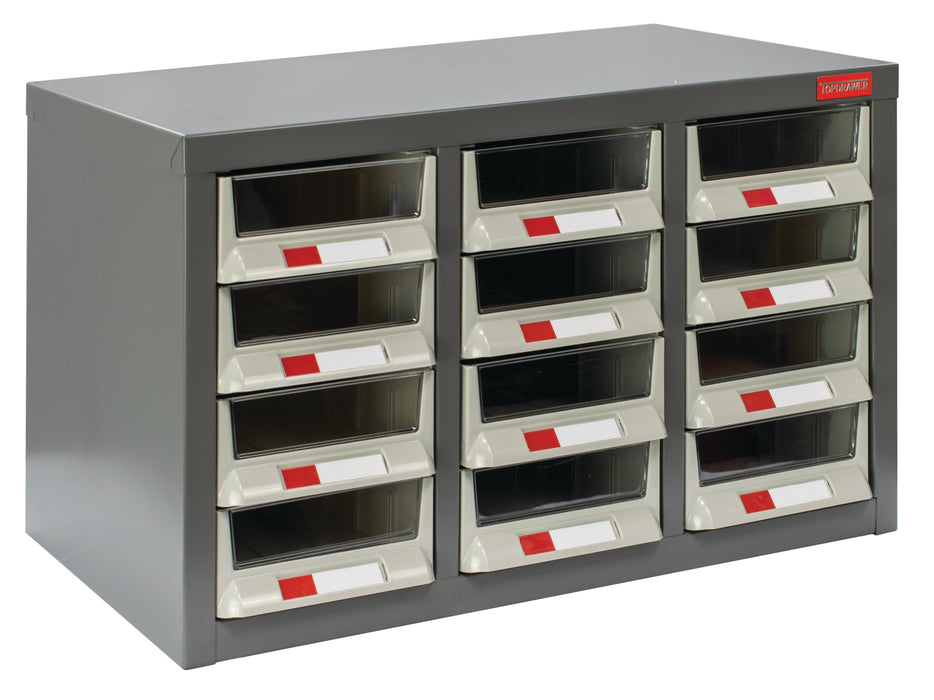 Steel Cabinet Drawer Storage Unit (6 options)
Our Steel Drawer Cabinet Units are available in 6 variations. This selection of free-standing units is ideal for most environments including both office, factory, and warehouse usage. 
The Steel cabinet units can be used as a freestanding unit or wall mounted (fixings not included). We also provide a 48-drawer option complete with doors (complete with a 3-point locking mechanism) for secure storage.
The unique slide design ensures that the drawers run smoothly allowing for easy access and an anti-drop structure ensures that drawers are secure when in use.
All of our cabinets are manufactured from pre-galvanised steel and powder coated in grey. the drawers are manufactured from high-impact ABS/Styrene and include a selection of dividers and labels. Please get in touch to purchase additional dividers and labels. 
The high-impact drawers have clear front windows for easier visibility of stored items, and the drawers can be fully removed if required.
Lead Time is 15-20 working days on this product
Product Specification
12 Drawer Cabinet
Size: 350H x 586W x 290D mm
Cabinet Capacity: 72kg
Drawer Size: 69H x 163W x 289D mm 
Drawer Capacity: 6kg
Max Divider Locations per drawer: 5
Number of Dividers provided: 12
24 Drawer Cabinet
Size: 640H x 586W x 290D mm
Cabinet Capacity: 144kg
Drawer Size: 69H x 163W x 289D mm 
Drawer Capacity: 6kg
Max Divider Locations per drawer: 5
Number of Dividers provided: 24
48 Drawer Cabinet without doors
Size: 937H x 586W x 222D mm
Cabinet Capacity: 240kg
Drawer Size: 69H x 120W x 218D mm 
Drawer Capacity: 5kg
Max Divider Locations per drawer: 3
Number of Dividers provided: 48
48 Drawer Cabinet with doors
Size: 970H x 586W x 270D mm
Cabinet Capacity: 240kg
Drawer Size: 69H x 120W x 218D mm 
Drawer Capacity: 5kg
Max Divider Locations per drawer: 3
Number of Dividers provided: 48
60 Drawer Cabinet
Size: 937H x 586W x 222D mm
Cabinet Capacity: 228kg
Drawer Size: 55H x 120W x 218D mm 
Drawer Capacity: 3.8kg
Max Divider Locations per drawer: 3
Number of Dividers provided: 60
75 Drawer Cabinet
Size: 937H x 586W x 222D mm
Cabinet Capacity: 247.5kg
Drawer Size: 55H x 90W x 218D mm 
Drawer Capacity: 3.3kg
Max Divider Locations per drawer: 3
Number of Dividers provided: 75